What to Eat at the Beach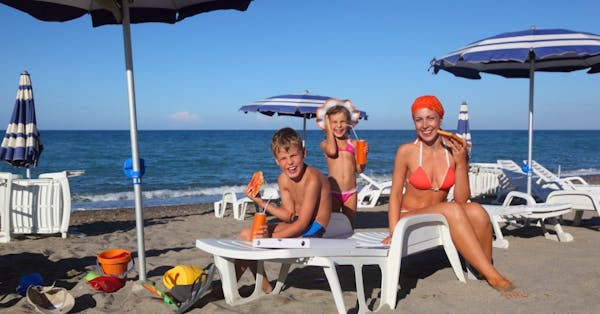 Living in North Charleston provides a lot of fun and entertaining ways to relax. If a day at the beach is on your list of top 10 ways to have fun, then we have the perfect post for you! Today, we'll take a look at some of the best foods to pack for your day at the beach, and we'll also warn you which ones to avoid — we have your back like that.
At Steel City Pizza in North Charleston, we know that sometimes you can't wait to stop by our restaurant to enjoy a good slice of pizza, which is why we are happy to prepare delicious pizzas with fresh ingredients that you can take with you to the beach! Stop by Steel City Pizza today and experience the taste of Pittsburgh-style pizza in the low country.
1. Wraps
Wraps are one of the easiest and best foods to take to the beach. In fact, they are almost always a better idea than sandwiches, as you won't have to worry about the bread getting soggy or smashed from other items in the cooler. If you are sensitive or allergic to gluten, then you can still make a wrap using any variety of big leaf lettuce. With the fillings tucked inside, wraps are not only easier to pack, but they're also easier to eat with just one hand.
2. Fried Chicken
While there is nothing quite as delicious as hot and crispy fried chicken, any leftover, cold fried chicken certainly comes in at a close second! Fried chicken is one of our favorite summer staples, it does well in a cooler, and makes for perfect beach food. If you don't have enough leftover fried chicken to feed everyone for the day, make sure to check out the wings at Steel City Pizza and order some to go!
3. Kabobs
We think that food on skewers is always fun, no matter what food you choose to use! If you agree, then make sure to prepare some kabobs for your next day at the beach. Whether you do a mixture of fruit, veggies, meats, or a combination of the three, you'll have an easy-to-pack meal with plenty of delicious goodness that you can enjoy hands-free.
4. Fruit
Everyone knows that when you plan to spend a day in the sun, you need to drink more water. While we definitely encourage you to do this, we also suggest packing plenty of whole fruits that have a high water content. Watermelon is a popular fruit during summer partly because it tastes so good, but also due to the high water content. While cut fruit is nice, it's much easier to pack and enjoy whole fruit when you're going to the beach. Take advantage of all the fruits that are in season during the summer and enjoy peaches, nectarines, grapes, and more!
5. Grain Salad
At Steel City Pizza in North Charleston, we definitely wouldn't turn down a great potato salad, but when it comes to beach food, we think that a grain salad is a much better option. For example, most potato salads need to be kept in a cool environment to avoid any spoiled ingredients. Depending on the type of cooler you have or how hot the day is, you may find that you have no choice but to throw your salad away when it's lunchtime. Opt instead for a grain salad that is made from tabbouleh or quinoa, which don't require the same refrigeration needs. Mix in some fresh veggies and spices for a light and flavorful salad.
6. Cookies
Okay, so maybe cookies aren't technically a meal, or even a healthy snack, but if you decide to pack a container full of cookies, we won't tell anyone! Whether you choose to buy your cookies at the local bakery, grocery store, or make them yourself, cookies make a great beach food. The sugar provides energy that you may need after several hours in the sun, they taste delicious, and they're easy to pack.
7. Veggies
We don't know about you, but we started to feel a little guilty after all that talk about cookies, so we thought it would probably be a good thing to emphasize the importance of eating your vegetables. Grab some of your favorite veggies like sweet bell peppers, baby carrots, and cherry tomatoes so that you have a healthy, delicious, and nutritious snack on hand when you're at the beach. Not only are these items easy to pack, but they're also easy to eat and make very little mess.
8. Sandwiches & Chips
Yes, we did point out the advantages of a wrap over the traditional sandwich, but sandwiches are a crowd-pleaser for a reason. If you're determined that nothing will sway you from your favorite sandwich, then go for it! From PB&J to ham and swiss, there are so many wonderful sandwich combinations to enjoy. Don't forget to pack a bag or two of your favorite chips to go with your sandwich.
9. Bars
Depending on your taste preferences, you might want to pack bars that are salty, sweet, or a combination of the two. You can purchase a handful at your local grocery store or whip them up in your kitchen for some homemade goodness. No matter whether you choose to buy them or make them, be sure to choose bars that have ingredients that are more filling so that you don't spend your beach day feeling hungry and cranky.
10. Pizza
How could we provide a list of the 10 best foods to eat at the beach without mentioning our absolute favorite — pizza? At Steel City Pizza in North Charleston, we create each of our pizzas with the freshest ingredients available. We also source locally when possible. Whether you choose to pick up a piping-hot pizza on your way to the beach or you prefer to enjoy leftover cold pizza, make sure to stop by and let us know what we can whip up for you!
Whenever you have the chance to enjoy a day at the beach, make sure to take full advantage of that opportunity! Pack some of the food items we mentioned here, a few inflatables, and plenty of sunscreen to ensure that your day is the best one yet. Stop by Steel City Pizza to enjoy a delicious meal after a day of fun in the sun and surf!