What Makes a Pizza Delicious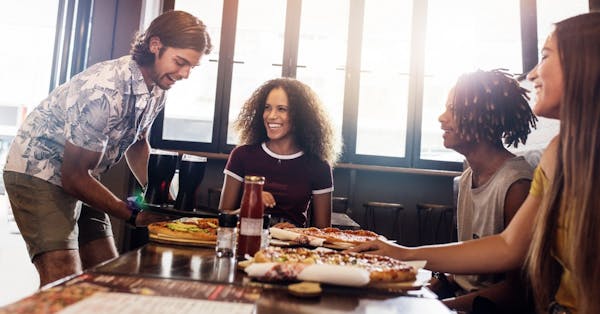 If you've ever found yourself wondering why pizza tastes so good, then keep reading to learn more! There is science that supports what we already know — pizza is totally craveable! There are so many different ingredients that can be used to make pizza that determining exactly what makes pizza delicious could be challenging for the average person. That being said, we'll take a look at some of the pizzas we offer at Steel City Pizza in North Charleston, the science behind pizza's delicious taste, and what makes the perfect pizza.
For those of you who already know that pizza is amazing and don't need further convincing, then come by Steel City in North Charleston today to enjoy the taste of Pittsburgh-style pizza in the low country. We look forward to serving you!
1. The Maillard Reaction
The Maillard Reaction, or browning reaction, refers to the chemical reaction that takes place between amino acids and sugars when they are exposed to temperatures above 284 degrees Fahrenheit. The reaction causes these ingredients to create flavor compounds that give foods like pizza a distinct and bold flavor. The Maillard Reaction happens on the crust, toppings, and the cheese that make up your pizza. The best part? Underneath the cheese and toppings, the dough remains soft and moist, which creates a unique mixed texture.
2. Mozzarella Cheese
According to researchers, mozzarella is the best cheese to use when making a pizza due to its ability to melt, bubble, and brown better than any other cheese. Researchers compared a number of different cheeses, including mozzarella, cheddar, colby, and provolone. Historically, cheese has been used as a way to preserve dairy, but what makes mozzarella so great is that it's best when freshly made. Unlike most other cheeses, it is super soft and moist, which makes it ideal for baking on a pizza. When cooked, it becomes incredibly stretchy and adds a nice contrast to the crispy crust.
3. Pizza Toppings Are Diverse
Whether you love meat, vegetables, fruit, or all of the above, you will find that almost any item can be used as a pizza topping. In fact, given the wide array of choices, you could make a pretty good case for pizza covering all of the major food groups!
If you had a hard time eating all of your vegetables as a kid, make sure to try a veggie pizza now that you're an adult. You might be surprised to discover that when vegetables are smothered in delicious red sauce and mozzarella cheese, you almost don't even notice them! They add nice, subtle flavor notes to the pizza and provide your body with many of the nutrients it needs.
4. Glutamate
You may be asking yourself what glutamate is and what it has to do with pizza. Glutamate is known for its flavor-enhancing abilities and is found naturally in some foods, including animal protein sources like beef, pork, and chicken. It is also found in tomatoes and aged cheese, which are commonly used in the making of pizzas. Basically, when glutamate hits your taste buds, they are stimulated in a way that sends pleasure signals to your brain, which makes it nearly impossible to resist reaching for a second or third slice.
5. Our Menu Features Variety!
At Steel City Pizza in North Charleston, we know that there are so many ways to make a delicious pizza that we try to offer a wide variety on our menu. For meat lovers, we offer our Mega Meaty, which features Old World Pepperoni, ham, meatballs, and Italian sausage. On the flip side, we also offer a number of vegetarian pizzas, including our Fresh Veggie, Five Cheese Caprese, Ultimate White, and The Greek. Feel like enjoying pizza the way you did as a kid? We are proud to offer the Classic Cheese pizza as well!
As pizza lovers, we found it hard to create a menu that features items beyond pizza, but we did. In fact, if you are not in the mood for pizza, which we find hard to believe, then be sure to check out some of our many other menu items, including authentic Philly cheesesteaks, salads, and wings. We love being a part of the neighborhood in North Charleston, and we look forward to seeing you soon!