What is Pittsburgh-Style Pizza?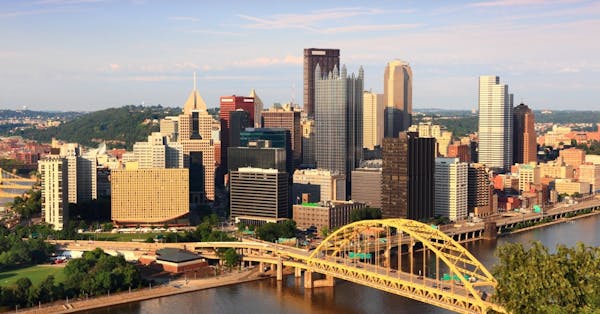 If you've been following our blog for a long time, then you know that at Steel City Pizza in Mount Pleasant, we are truly proud of bringing Pittsburgh-style pizza to the low country. While you may have tried our pizza and found that we really do make the best pizza you've ever had, you're still wondering exactly what makes it Pittsburgh style. Continue reading today's post to learn about this unique version of pizza, and stop by our family owned restaurant for a pie of your own at lunch or dinner!
Pittsburgh's Pizza Status
It's important to start by solidifying Pittsburgh's standing as a city to be reckoned with when it comes to pizza savvy. In a study by research firm, Infogroup Targeting Solutions, Pittsburgh ranked second in the nation for most pizza shops per capita with 9.9 shops per 10,000 people. In fact, you can find four pizza shops in just one, three-block stretch of Murray Avenue! One last important item to note is that Pittsburgh has one of the largest Italian-American populations in the entire country.
While we don't want to pay too much attention to other types of pizza since ours is the best, it's important to take a brief look at other styles to help you truly understand what makes ours so special. With that, let's take a look at two of the most well-known styles of pizzas:
Chicago Style - This is known for its deep-dish pie. The crust is rigid, deep, and covered with a thick sauce. Generally, one slice is enough to satiate most people's hunger.
New York Style - This pizza is easily recognized by its thin, floppy crust, thin layer of sauce, and thin layers of toppings. Most people typically "fold" the pizza in half and eat it almost as if it were a sandwich.
What is Pittsburgh-Style Pizza?
Now that you have a clear picture of these two types of pizzas, let's take some time to talk about the best pizza you need to try! The classic Pittsburgh pizza is considered a vessel for cheese. In fact, there is usually so much cheese piled on top of the pizza that the crust has to be very thick so that it can support the weight of the cheese. In some cases, the crust will be as thick as small rolls and have perfect char marks from the baking process in the stone hearth oven. A Pittsburgh-style pizza crust usually comes out of the oven medium crisp, puffy, and chewy — a perfect combination! If you request toppings besides the cheese, then be prepared to come with a large appetite and an expectation of taking home plenty of leftovers!
History Behind the Style
If you're wondering why someone would create a pizza that is practically larger than life, then you need to look back at the people and the time when it was first made. Pittsburgh used to be a town full of immigrants from places like southern Italy and Poland, and they spent long hours working in the steel mills. Their hours of hard labor, combined with a better income, meant that they had large appetites and the money to support pizzas that featured enormous piles of cheese on mounds of dough.
Interestingly, there were some pizza shops that stayed open late at night in mid-century Pittsburgh in order to accommodate the working hours of this particular customer — the steel mill worker.
Hopefully we've made your mouth start watering and your stomach begin growling, which means that you need to stop by Steel City Pizza in Mount Pleasant to order a Pittsburgh-style pizza! We are proud to build good food that represents our hometown of Pittsburgh here in the low country. Come visit us today!