Top 7 Drinks to Enjoy this Summer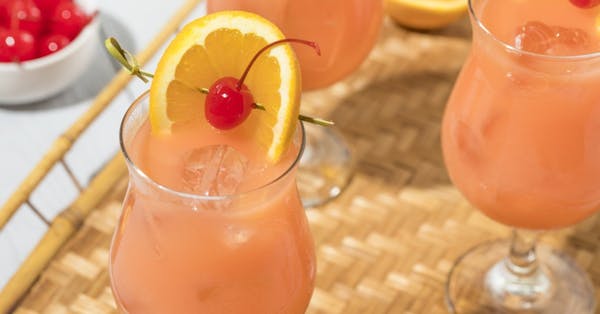 Summertime is a wonderful time to relax, take things easy, and enjoy a vacation or even a staycation. If you're like us, then there are likely some drinks that you look forward to each summer season. Perhaps it's a seasonal pale ale, or a fruity rum-based drink. Even if you have a favorite, we hope that you'll give a few of the drinks on this list a try — you might even find a new favorite!
In today's post, we'll take a look at the top seven drinks that you should try this summer, and provide easy-to-follow recipes for each. No matter what your plans are this summer, we hope that you take some time to stop by Steel City Pizza in Mount Pleasant during happy hour to enjoy some of our seasonal beverages.
1. Mojito
Mojitos are a classic summer drink in part because of the fresh mint leaves that give this beverage its signature look and flavor. It is a traditional Cuban highball that typically consists of five ingredients, including white rum, sugar, lime juice, soda water, and fresh mint leaves. While you can still make a mojito without mint, we can almost guarantee that it won't taste quite as amazing. Here is an easy recipe to try:
1 oz. freshly-squeezed lime juice
1 tsp. sugar
3 - 4 fresh mint leaves
1.5 oz. white rum
Club soda
Muddle the lime juice, mint leaves, and sugar in a Collins glass (tall narrow glass). Add some ice, the rum, and top with club soda.
2. Sangria — Red and White
There are actually a wide variety of combinations that you can choose from when you make Sangria, but most of them fall into one of two categories — red or white. The color depends on the type of alcohol that you use. Traditionally, Sangrias are red as they are made with red wine and brandy. While these are delicious, they can be a bit heavy for a summer cocktail. This summer, try making a white sangria with summer fruit and discover the lighter side of this amazing drink! For a delicious white sangria, follow these instructions:
1 thinly sliced lime
1 thinly sliced lemon
¼ cup sugar
¼ cup apple brandy
½ sliced green apple
1 ripe sliced peach or nectarine
1 cup sliced strawberries
1 bottle of your favorite white wine
Put the lime, lemon, and sugar into a large pitcher and muddle together. Add the apple brandy, green apple, peach, and strawberries. Mix everything well and then add the wine before stirring again. If you're serving the sangria right away, then allow it to sit for a minimum of 15 minutes to let the ingredients blend their flavors. Ideally, you should place the sangria mixture in the refrigerator for at least two hours or overnight if possible.
3. Whiskey Lemonade
When you were a kid, you probably enjoyed running around and playing all day long during the long summer days. If you did that, then you probably enjoyed a tall glass of lemonade to quench your thirst. Now that you're all grown up, be sure to try a whiskey lemonade and rediscover the joys of summer once more. You need only two ingredients — whiskey and lemonade. Combine in the ratio that you will enjoy best and then pour over a glass full of ice. You can even garnish with some fresh mint leaves and a slice of lemon!
4. Mai Tai
Mai Tais are almost synonymous with summer due to their association with Polynesian-style settings. If you've ever been to a luau, then you probably enjoyed your fair share of these delicious and fruity drinks. Here's a great recipe to try:
2 oz. dark rum
0.5 oz. curaçao
1 oz. fresh-squeezed lime juice
0.5 oz. almond syrup
1.5 tsp. rock candy syrup
Add the rum, curaçao, lime juice, syrups, and ice into a cocktail shaker and shake well. Pour into a Collins glass and enjoy!
5. Blackberry Mint Julep
There's no reason you have to be Southern to enjoy a refreshing mint julep, so why not try one of our favorite takes on this drink — the Blackberry Mint Julep. As you've probably noticed, a number of the drinks that made our top 10 list include fresh mint, and this one is no different. In fact, it also features another delicious summer fruit — blackberries. If you're up for a new experience, then follow these steps:
2 oz. bourbon
0.5 oz. chambord
0.75 oz. fresh lime juice
0.5 oz. demerara syrup (darker version of simple syrup)
5 muddled blackberries
6 mint leaves
Simply mix all of the ingredients in a shaker, pour over crushed ice and then garnish with, what else, mint leaves and blackberries.
6. Singapore Sling
This drink is aptly named since it originates from Singapore. It is the only drink to make our list that is gin-based, which should tell you something about just how amazing this beverage is! The Singapore Sling was developed sometime before 1915 by a bartender in Singapore, which just goes to show that a classic is a classic for a reason. Try this simple recipe:
2 tbsp. pineapple juice
¾ oz. gin
1 tbsp. fresh lime juice
¼ oz. orange liqueur
¼ oz. cherry liqueur
¼ oz. herbal liqueur
1 dash peach-vanilla bitters
¼ cup club soda
Combine all ingredients in a shaker with ice, then cover and shake vigorously for about 15 seconds. Strain into a highball glass and garnish with orange slices and Maraschino cherries if desired.
7. Paloma
The Paloma cocktail is popular throughout Mexico and features grapefruit-flavored soda. While this drink is very easy to prepare, you can also purchase it pre-made in cans if you wish. Today, we're going to highlight a very slight variation on the traditional recipe, which will result in a delightful pink Paloma. Follow these instructions:
2 oz. quality tequila
2 ½ oz. fresh pink grapefruit juice
1 ½ oz. fresh lime juice
1 tbsp. sugar
Splash of sparkling pink grapefruit juice
Pour all ingredients and some ice cubes into a shaker and shake vigorously until chilled. Strain the mixture into a low-ball glass and garnish with a slice of grapefruit or lime.
At Steel City Pizza in Mount Pleasant, we hope you come in during one of our happy hours this summer to try some of these drinks. We can whip up almost anything you can dream of, so grab some friends and savor summer with us!