Top 5 Reasons to Have Pizza for Lunch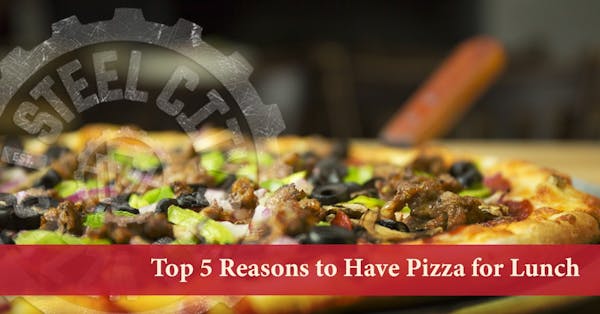 Pizza is one of the most popular food choices for Americans. Whether you like pizza piping-hot or ice cold, there's no denying the pull of an amazingly crafted pizza. At Steel City Pizza, we build good food, you eat it. Today, we're going to look at the top five reasons why should have pizza for lunch. If you can't get away from work long enough to grab a pizza, then order online and we'll have it ready for you to pick up or deliver it to you!
Reason #1 - Pizza Can Help Boost Your Immune System
If you spend your time at work in an indoor space, then you know just how easy it is to catch a cold from a coworker, or for germs to be spread. If you can't work from home, or work outside, then you have to find ways to boost your immune system so that you can stay healthy. Come visit our local pizza restaurant in Mount Pleasant, enjoy our delicious Pittsburgh-style pizza, and boost your immune system! Tomato sauce is packed with Vitamin C and Lycopene which have been shown to help protect against illnesses and boost your immune system's ability to fight invading germs.
Reason #2 - Pizza Covers All the Food Groups
Unless you are ordering a cheese-only pizza, then you are definitely hitting all of the groups in the food pyramid. Pick up a slice of pizza and take a good look at it — you have the crust (grains), the sauce (veggies), and the toppings (dairy, fruit, veggies, meat). With your first bite, you have met all of the requirements for all five food groups, so give yourself a pat on the back, a high-five, or a fist bump! Just don't try this argument with your mom — she might not approve.
Reason #3 - Pizza Has Antioxidants, Which Help Fight Cancer!
Yep, you read that correctly — pizza fights cancer. As we mentioned before, the tomato sauce contains lycopene, which has strong antioxidant properties since it's a part of the carotenoid family. Antioxidants help to protect your body from free radicals, which are nasty compounds that can cause a lot of damage, including raising your stress levels. Nobody wants or needs more stress, so come join us in Mount Pleasant and order a pizza!
Reason #4 - There Are an Infinite Number of Topping Combos!
There are so many different combinations of pizza toppings that we can't even begin to count them all. Whether you want us to load your Pittsburgh-style pizza with every vegetable we have, or load it up with meat, you still won't have scratched the surface of combination possibilities. In fact, while we're talking about it, you could also change things up by trying different sauces with your toppings. Mind. Blown!
Reason #5 - Pizza for Lunch Is the Best Idea Ever!
Really, do we need to give you another reason to join us and have pizza for lunch? You already know how amazing pizza is, but unless you've tried our local pizza in Mount Pleasant, you haven't tasted the best pizza! Why wait for dinner when you're hungry right now, you have a lunch break, and we're close by?
Steel City Pizza absolutely loves building great pizza in Mount Pleasant. Now that you've seen our top five reasons for having pizza for lunch, don't wait another minute! Come visit us and see for yourself how amazing our Pittsburgh-style pizza truly is.