The Benefits of a Family-Owned Restaurant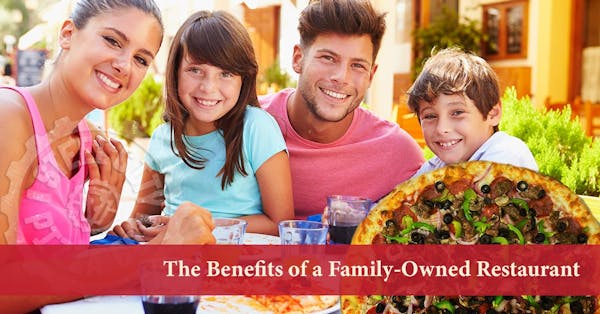 At Steel City Pizza in Mount Pleasant, we believe that there is something extra special about local, family-owned businesses. We hope that when you come to visit us you will feel welcome and appreciated in our family-friendly restaurant. We love our customers, which is why we build the best pizzas, with the freshest ingredients, in the low country. Continue reading to learn about the benefits of a family-owned restaurant, and be sure to stop by Steel City Pizza in Mount Pleasant for fresh pizza today!
Great Relationships with the Community
One of the biggest differences between a family-owned restaurant and a chain restaurant is that both the owners and the employees of the family-owned business are made up of relatives and employees who live in the community in which they work. This means that employees typically stay at a family-run restaurant far longer than another establishment, and they also go the extra mile to create a warm, friendly environment. The length of time they spend working at the restaurant allows the staff the opportunity to get to know their patrons and develop a good relationship within their community.
Warm and Welcoming Atmosphere
Since they are not a corporate chain, family-run restaurants can decorate their establishment with items that indicate a more personal relationship with the restaurant. From art pieces and warm lighting fixtures to the unique architecture and live foliage, everything is chosen specifically to create that homey atmosphere that customers relish. One of the best aspects of eating out as a local restaurant is the ability to feel as comfortable and relaxed as if you were at home, and that is how we want you to feel when you join us at Steel City Pizza in Mount Pleasant.
High-Quality Ingredients For a Better Product
Chain restaurants typically buy frozen food in bulk to cut down on costs, which means that what they save in money is sacrificed in terms of freshness and flavor. At Steel City Pizza, all of our ingredients are fresh, which means that we make and serve only the best pizzas at our Mount Pleasant location. Stop by and enjoy one for lunch today!
Restaurant Profits Benefit the Community
When you eat a chain restaurant, the profits go somewhere else other than the community. Generally speaking, those profits will never come back to benefit your town, which is why eating at a local restaurant is always a great choice. When you eat locally, the profits stay within the community, which benefits both the town and the restaurant, evolving into a mutually beneficial relationship! Steel City Pizza loves our Mount Pleasant customers, and we hope that you experience once of the best local pizza places when you visit us for lunch or dinner. If you're hosting a party, then call and have us deliver local pizza right to your door!
When you care about your community, you want to make the choices that will benefit it the most. Stop by Steel City Pizza in Mount Pleasant today and discover the best local pizza in the low country!