Six Things You Should Know About Gluten-Free Diets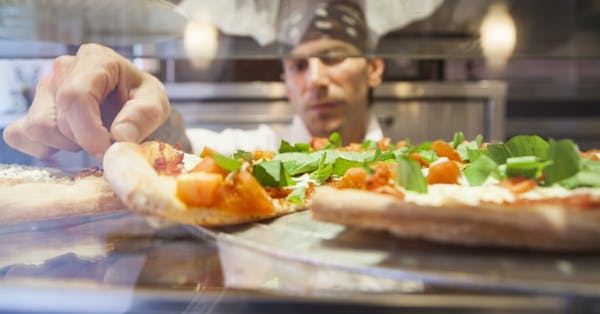 Whether you struggle with gluten intolerance, celiac disease, or just feel better when you avoid foods containing gluten, there are some things that you should know about eating a truly gluten-free diet. Continue reading today's post to learn some tips for making sure that you are eliminating gluten from your diet, as well as some of the foods and beverages that you can enjoy.
At Steel City Pizza in Mount Pleasant, we know that giving up pizza may have been one of the hardest things you've ever done. Because we feel that pizza is so delicious that everyone should be able to enjoy it, we created our cauliflower crust menu. Check out the delicious gluten-free options we offer and be sure to stop by for lunch or dinner to enjoy a taste of Steel City Pizza in the low country.
1. Gluten can hide in unexpected places.
While some foods such as bread and cereal are obvious sources of gluten, there are a number of food and candy items that might surprise you with their gluten content.
Soy sauce
Licorice
Dressings
Gravies
Other sauces
Salad dressings
One of the easiest and best ways to protect yourself from accidentally ingesting food with gluten is to make sure that you read the ingredient labels on every packaged food item that you buy. Additionally, make sure to purchase food that is labeled gluten-free. There are a number of products both at grocery stores and on menus that are labeled gluten-conscious, gluten-smart, or gluten-wise that are not safe for those who need to avoid gluten. These types of food products are aimed at those who elect to avoid gluten and don't face a health risk if they do eat something with gluten in it.
2. Gluten-free diets can relieve digestive symptoms and reduce chronic inflammation.
One of the most common reasons that people try a gluten-free diet is to find a solution for their digestive problems, including bloating, diarrhea, constipation, gas, and fatigue. Whether you have celiac disease or non-celiac gluten insensitivity (NCGI), you might discover that digestive issues you've been dealing with for a while are lessened or even completely resolved.
One of the most common problems that people with celiac disease experience is chronic inflammation. By completely avoiding gluten, you may find that inflammation you have suffered from for weeks, months, or even years is reduced. A gluten-free diet can also help to treat gut damage that was caused by inflammation.
3. Gluten-free diets can help boost energy levels.
If you have celiac disease, then you may also be familiar with the constant struggle of feeling tired, sluggish, or low on energy. One of the main reasons for low energy levels is usually an iron deficiency, which is common in celiac disease. Switching to a gluten-free diet can help boost your energy levels so that you don't feel so tired all the time.
You might also find that you lose weight on a gluten-free diet, but you want to be careful that you're not choosing this particular way of eating solely as a means to lose weight. There are plenty of packaged foods that are gluten-free that are not the healthiest option available. If you discover that your energy levels are headed in the right direction, then you may be more active, which could be a contributing factor to your weight loss.
4. Naturally gluten-free foods exist!
There are plenty of gluten-free foods that you can enjoy while maintaining a healthy diet. Not only will they benefit your health, but they also make delicious meals and snacks. Naturally gluten-free foods include:
Meat and Fish - all meat and fish are safe to consume if you are gluten intolerant as long as they are not battered or coated.
Eggs and Dairy - all types of eggs are naturally gluten-free and dairy products such as plain milk, plain yogurt, and cheeses are also safe. Dairy products that are flavored may have added ingredients that contain gluten, so be sure to check the ingredient label carefully.
Fruits and Veggies - fruits and vegetables offer a wealth of gluten-free food choices.
Grains, Starches, and Flours - as long as they are labeled gluten-free, there are a number of options that you can choose from in this category, including quinoa, rice, buckwheat, potatoes, corn flour, almond meal, and oats.
Nuts and Seeds - unless you have an additional nut allergy, then you are free to enjoy any nuts or seeds that you'd like.
Oils, Herbs, and Spices - all vegetable oils, herbs, spices, and butter are safe for consumption.
Beverages - the good news is that most beverages, including wine and distilled spirits, are safe for you to enjoy. Unless beer is labeled as gluten-free, then this is the one beverage that you will want to avoid.
5. There are foods that you need to be careful to avoid on a gluten-free diet.
While we just provided a lengthy list of gluten-free foods that are safe for you to consume, we don't want to create the perception that it is easy to completely avoid gluten — it can be challenging. Part of the reason for this challenge is that gluten is naturally found in many common ingredients, including any wheat-based foods, barley, rye, malt, and Brewer's yeast.
Given this information, it might be helpful to know that there are groups of foods that you should be careful to avoid rather than individual items. The groups of food that may contain gluten include:
All wheat-based bread
All wheat-based pasta
Cereals unless they are labeled gluten-free
Baked goods - cookies, cakes, muffins, pizza, bread crumbs, pastries
Snack foods - candy, granola bars, crackers, chips, popcorn, and pretzels
Sauces - soy sauce, teriyaki sauce, hoisin sauce, marinades, and salad dressings
Beverages - beer and flavored alcoholic beverages
Miscellaneous - couscous, broth
As we've mentioned several times, it's important to double-check food and beverage labels to ensure that you are not consuming something that contains gluten.
6. Cauliflower crust pizzas are gluten-free and delicious!
You read that correctly! Not only are cauliflower crust pizzas gluten-free and delicious, but you can make them at home if you are feeling adventurous. At Steel City Pizza in Mount Pleasant, we don't think that you should have to avoid pizza due to a food allergy, which is why we are proud to share our brand-new cauliflower crust pizzas with you! We offer several different flavor profiles so that you can try something new each time you come for lunch or dinner. In fact, we'd love to know which one is your favorite!
We are proud to bring the taste of Pittsburgh to the low country, so make sure to stop by with your family or friends to enjoy our homemade pizza tonight! We look forward to seeing you.