Score a Touchdown With This Football Party Checklist!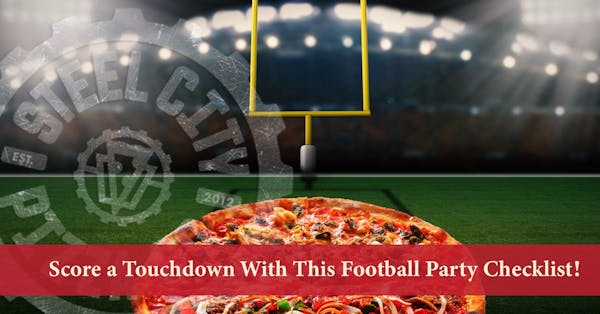 If you are a football fan, then you probably already know some of the biggest dos and don'ts when it comes to throwing an amazing party. Whether you are tailgating at the stadium or hosting at your home, we have some of the greatest pizza party tips to share with you to make your next big party the most successful yet! At Steel City Pizza in North Charleston, we build good food, you eat it! Stop by for lunch with your friends today or order out and enjoy our local pizza at home.
Plan Your Offensive Plays
Just like coaches design the plays that will help their team to win the game, you must also plan for everything you'll need to "win" the party. From sending invitations and cleaning your house to ordering food and arranging the presentation, there are many details that you don't want to lose track of. One tip is to put the todo list items into your calendar so that you don't forget to order the beer, food, or other party items on time. It would definitely be a party foul if you forgot to order the food in time and had to choose plan B — especially if there is no plan B.
Draft Your Players
Football is a team sport, and so is throwing a party. Just because you're the host does not mean that you have to take care of everything. In football, the head coach has a whole team of coaches under him who manage specific aspects of coaching the players. The head coach's job is to bring all of the pieces together. As a party host, your job is very similar. If you have young kids, hire a babysitter to watch them so that you can enjoy the big game too! Depending on your budget, hire a friend's teenager to make sure that appetizers and food dishes are refilled, and consider hiring a cleaning service to make quick work of all the deep cleaning you'll need after the fans — guests — are gone.
Down, Set, Eat!
Just as the quarterback starts each play with a unique call, you need to make sure to officially start the party for your guests. While you could make all of the food yourself, why bother when you can order delicious local pizza made fresh at Steel City Pizza in North Charleston? From menu favorites to custom orders, we can put together a food show that will rival the halftime show. Call today to place your party order, and leave the hassle of food preparation to the pizza pros at Steel City Pizza!
Benchwarmers
Don't worry if you don't have enough chairs for everyone — get creative! From coolers to folding tables, you can find enough surfaces for your guests to relax and enjoy the game together. In fact, if you're truly short on seating, then consider renting some chairs or benches to provide for your guests. While you're at it, look into renting a popcorn cart or even a margarita machine!
Liquid Zone
Never underestimate the importance of offering a variety of liquid libations for your guests. While you should always encourage guests to bring their own beer — after all, alcohol is expensive — consider some of the ways that you could be a good host for your guests by providing tubs full of different beverages. Not only will this arrangement allow them to see what's available at a glance, but it will also spare you from spending all your time playing bartender.
At Steel City Pizza in North Charleston, we love a good football game as much as the next person! Whether you choose to enjoy our pizza and a game in the restaurant, or order our local pizza to be delivered, we know you won't be disappointed with our fresh ingredients and delicious flavor combinations. Call and plan your party order with us today!