How to Cook Pizza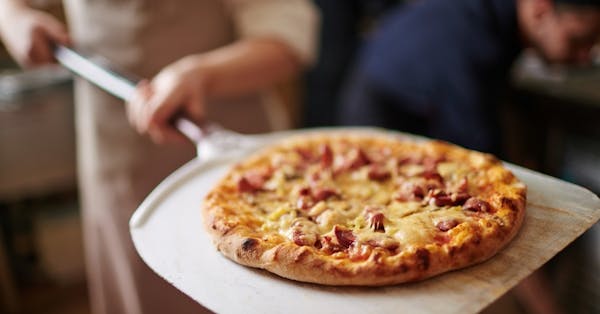 If you grew up visiting local pizza parlors in your neighborhood, then you probably experienced pizzas that were made in a number of different ways, with a variety of ingredients and toppings. In today's post, we'll take a look at some of the different ways to cook pizza as well as the best way to cook pizza — Pittsburgh style!
At Steel City Pizza in North Charleston, we wouldn't think of providing anything less than the best in our family owned restaurant, which is why we make it a priority to use the freshest ingredients possible. Whether you stop by for lunch or dinner, we know that you'll enjoy a taste of Pittsburgh style pizza in the low country!
1. Oven-Only Method
Traditionally, pizza is baked in the oven with the temperature set at 450 degrees Fahrenheit. While the oven heats up, you can prepare your dough, sauce, and toppings. Once you are finished, the oven should be preheated and ready to go. Depending on your preference, you may cook the pizza on an aluminum cookie sheet, a stoneware pan, or a silicone baking mat. After about 20 minutes, the pizza should be ready to remove from the oven.
2. Oven-Broiler Method
The oven-broiler method will work only if it is a part of the oven's main cavity and not a separate drawer. Once you've determined that the broiling element is in the oven, you can continue your preparations. For this method, you will want to use a pizza stone for the best results. Place the stone in the oven and turn it on to preheat it to 500 degrees Fahrenheit. Once the oven is preheated, switch the knob over to the broiler for five minutes, and then return it to the bake setting at 500° before cooking the pizza. Doing this offers the benefits of these two different means of cooking in one. By preheating the stone in this way, the bottom of your pizza will be lightly charred and the toppings will be bubbling. You can cook it for a few minutes longer if you prefer a crispier crust.

3. Grilling Method
While not as common, grilling a pizza can result in a crust that is crisp, beautifully blistered, and features a nice smoky taste. While not everyone might be a fan of this, we can assure you that it is one of the more delicious ways to prepare a pizza at home. An added bonus is that grilling your pizza is a great way to prepare dinner without heating your house up on those hot summer nights! The most important step is to make sure that the grill is clean and the grates are oiled so that the dough doesn't stick. Prep all of the toppings ahead of time since grilling generally moves much more quickly than cooking. Cook the dough on one side for a few minutes. You should see it begin to puff up, which means that it's ready to be flipped onto your baking sheet where you can add the toppings to the cooked side. Once all the toppings are added, you can return the pizza to the grill to finish grilling the other side.
4. Toaster Oven Method
Typically used by college students, this method provides you with a delicious pizza that can be baked very quickly and easily in most dorm rooms. In fact, it accommodates a number of smaller and easy alternatives to traditional pizza crusts, including pita bread, English muffins, or toast. Once you've prepared your pizza the way that you want, simply slide it into the toaster and let it toast for about five minutes. If it needs to stay in longer, make sure to check on it every minute or so to avoid burning your pizza.
5. Stone Hearth Oven Method
This, of course, is our favorite method for preparing pizza. There's just no denying that when you bite into a slice of pizza that has been baked in a stone hearth oven, it has a distinctive and easily-recognizable taste. This unique taste is due to the use of open flames, the intense heat, and the direct contact of the pizza with the stone hearth. At Steel City Pizza in North Charleston, we want to provide our customers with nothing less than the best, which means that all of our pizzas are cooked in our stone hearth oven.
Pizza is delicious almost any way you choose to cook it, but for the best pizza with the freshest ingredients, make sure to stop by our family owned restaurant to discover a taste of Pittsburgh-style pizza in the low country. Too busy to stop by? No problem! We are proud to offer online ordering for your convenience along with the option to pick up your order or have it delivered. We build good food, you eat it.