Health Benefits of Pizza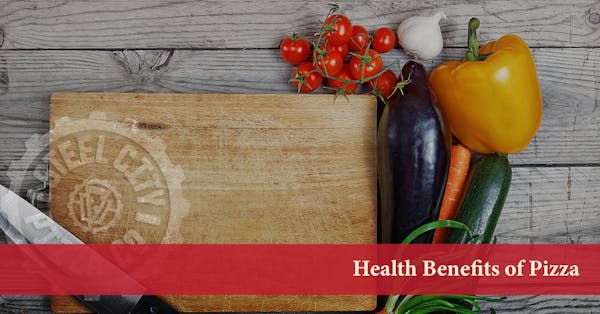 We are pretty sure we already know what you're thinking about the title of today's post. If you are skeptical that there are any health benefits of pizza, then continue reading to learn some surprising facts about this delicious food item. At Steel City Pizza, we love making pizza, eating pizza, and sharing the freshest, homemade pizza with our guests every day. Be sure to visit us in North Charleston to try some of the best made pizza you will ever enjoy.
Calcium
Calcium is found in a number of food items, including dairy products and dark leafy greens. When you put these two types of items on your pizza, you have a nutritional powerhouse in the making! Calcium helps your body build and maintain strong healthy bones. Additionally, your heart, nerves, and muscles also need calcium to maintain proper function. The next time you're trying to decide on which types of cheese to add to your pizza, just add all of them and give your body the healthy dose of calcium it needs!
Protein
Not only is cheese a good source of calcium, but it's also a great source of protein. Additionally, meat can boost the amount of protein in your pizza, so don't be shy about adding meat toppings to your pizza. The healthiest meat choices for your pizza toppings are chicken or seafood. Traditional toppings such as sausage and pepperoni can greatly increase the amount of fat in your pizza, which tends to cancel out any health benefits they might offer.
Vegetables
One of the great things about pizza is that you can pile on a wide variety of vegetables to get a healthy serving of vitamins and minerals such as folate and serotonin. Spinach, for example, is a great source of folate, which is necessary to make DNA and other genetic material. Folate helps to lower your risk of depression and maintain a healthy heart. Tomatoes, a popular pizza topping, also promote heart health, improve your vision, and boost your digestive health.
Whole Grains
When you have the option to choose the type of flour used in making your pizza, always opt for whole grains. This choice will help you to meet the recommended intake of three servings of whole grains each day. It also means that you'll be getting the fiber that you need to help your body's digestive system as well as lower your risk for high cholesterol. As much as we love pizza, we understand that you want to be careful not to overindulge. For this reason, a whole grain crust is a great choice for helping you to feel fuller and avoid overeating.
At Steel City Pizza in North Charleston, we make fresh, healthy pizza everyday for all of our guests. Whether you live in North Charleston, or you're just passing through, be sure to visit us and discover the best built pizza in the low country! We use only the freshest ingredients so that we can provide you with all of the health benefits you need, without sacrificing the delicious taste you love!