Build Memories With Your Friends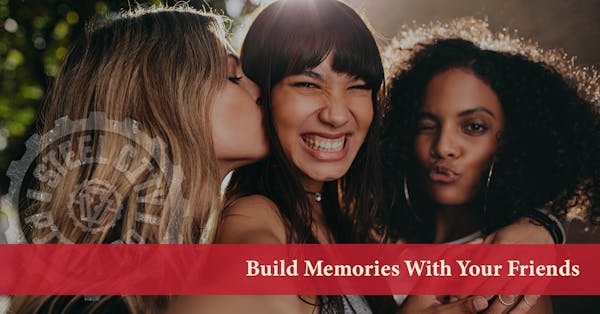 Spending time with your friends is one of the best ways to deepen your relationships, build memories, and have fun. Whether you became friends due to a shared hobby, favorite sport, or fondness for travel, we know that you are always looking for the next fun thing to do together. Continue reading today's post to learn some fun ways to continue building memories with your friends.
At Steel City Pizza in Mount Pleasant, we are proud of the friendly and casual atmosphere that our restaurant has. Whether you plan to join us for lunch or dinner, we know that you and your friends will be able to relax and enjoy your time together over a delicious pizza made fresh from our kitchen. We build good pizza, you build the memories.
1. Sign-up for a paint and sip class
There are a wide variety of paint and sip classes to choose from these days. Whether you go to discover your inner Picasso, enjoy the beverages that are offered, or simply have fun playing with colors, we know that you and your friends will enjoy the experience together. When you leave, you are sure to have a number of funny moments and enjoyable interactions that you can remember for a long time. Don't let your perceived lack of talent hold you back — have fun and build memories with your friends.
2. Join a cooking class
Some people are wonderful cooks while others could find a way to burn water. Joining a cooking class with your friends is a great way to expand your cooking repertoire, experience new food pairings, and do it all under the direction of a trained chef. Be sure to sign up for a class that will prepare a dish that all of you will be able to enjoy. You don't want to find out when you get to the class that there are ingredients that might cause an allergic reaction for one of you.
3. Plan a hike or picnic
When the weather is nice, spending time outdoors with your friends is perhaps one of the best ways to build good memories. Depending on where you live, you might want to plan a hike on a local trail or in a nearby open space. Spending time in the fresh spring air with friends is definitely an enjoyable way to spend a day off from work. When the hike is done, you could share a prepared picnic lunch or stop by Steel City Pizza in Mount Pleasant and let us prepare lunch for you!
4. Visit the aquarium
The South Carolina Aquarium is a wonderful place to visit and learn about some of the native animals and plants. One of the most stunning features in the aquarium is the two-story, 385,000 gallon Great Ocean Tank. Be sure to make time to observe the sea turtles, sharks, and other saltwater fish in this unique setting. To build a few more memories, ask about purchasing tickets to participate with feeding the fish and stingrays.
5. Attend summer concerts
One of the great things about summer is the abundance of local music concerts that are relatively cheap and sometimes even free! Even if you and your friends have different tastes in music, you can still enjoy the different food, clothing, and other vendors that are sure to be at the concert. The warm sun, good food, and relaxed atmosphere at a summer concert work together to create happy memories that you can treasure for years.
Friendships are one of the most important things that you can build in your life, which is why we work to create an atmosphere where you can enjoy a meal with friends and feel at home. One of the best aspects of our family-owned restaurant is hearing our guests laughing and enjoying themselves with their friends and family. At Steel City Pizza in Mount Pleasant, your happiness makes our job even more fun! Continue to build those memories with your friends and we'll continue to build good pizza for you to enjoy.